29 March 2023 | Leadership
Riding the Wayve with Bill Gates
Wayve co-founder & CEO Alex Kendall recently took Bill Gates out for a ride in a Wayve autonomous vehicle through London and discussed how AI is reshaping the way we look at cars.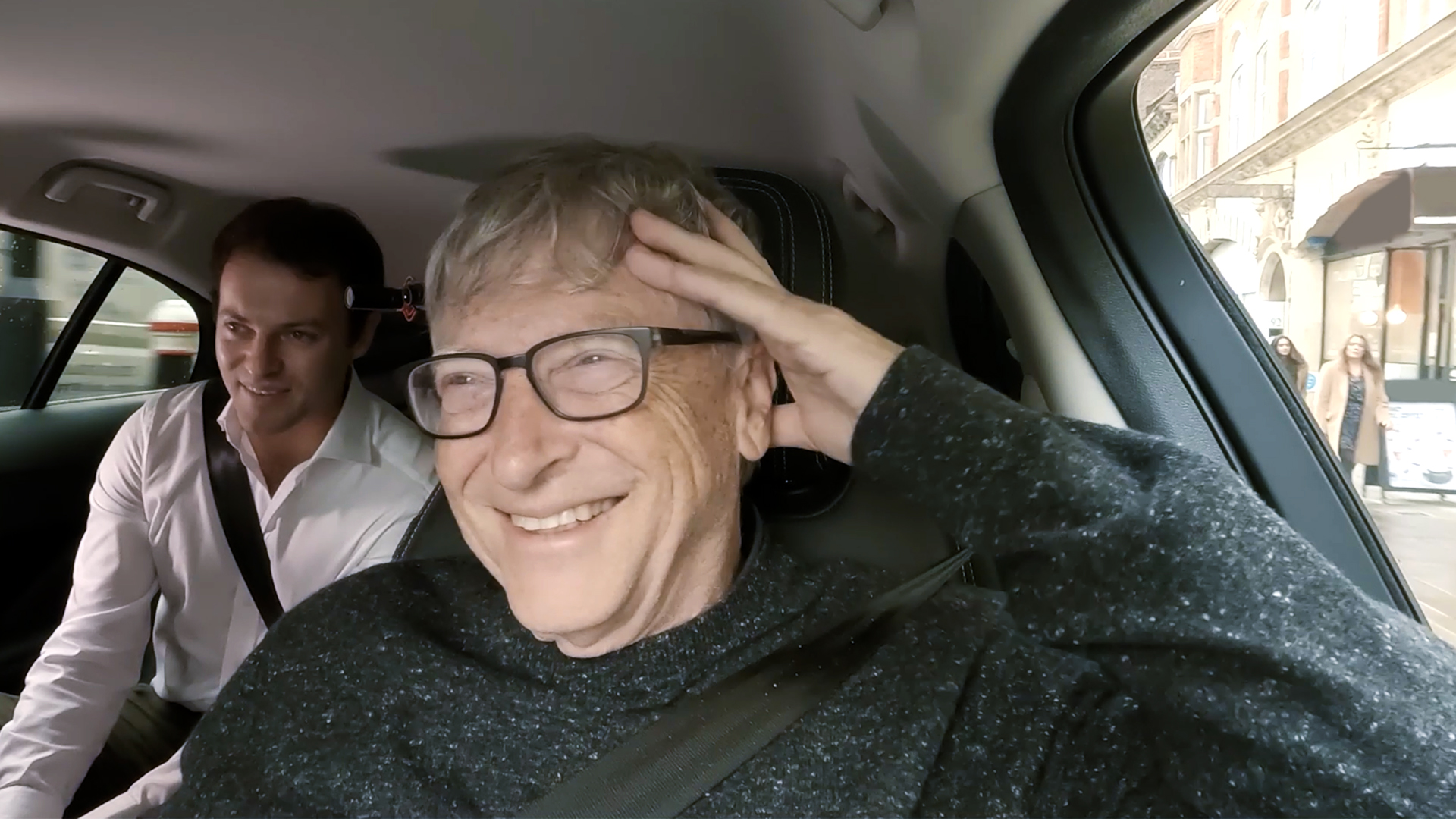 Recently, I had the great privilege of taking Bill Gates out for a demo ride in a Wayve vehicle through central London. It was an incredible experience to spend time with someone who's been at the forefront of the biggest technological transformations, including the PC revolution, the Internet revolution and now the AI revolution.
Bill was eager to get a firsthand look at what Wayve was doing. He was curious to learn how we are building an end-to-end neural network that uses self-supervised learning and reinforcement learning to build artificial intelligence that can drive, not based on a set of rules or a 3D map, but from interpreting the environment around it and making the safest decisions possible. He immediately asked many sharp questions about our training dataset, compute requirements, and how we capture the diversity of all the edge cases that we encounter in the real world, many of which he experienced in his 1-hour ride through London at rush hour.
"Other self-driving technologies work only on specific mapped streets. Wayve's technology operates more like a human driver would learning to drive in one city and then applying that knowledge to drive in new places."
– Bill Gates
On our ride, we discussed many of the opportunities that the age of AI will bring.
Like me, he believes that the algorithms that drive AI's learning will continue to improve and that entire industries will reorient themselves around its use. I was thrilled to show him a glimpse of the next chapter in AI: the age of autonomy, where we will see the emergence of embodied AI and the first physical interactions between humans and AI-driven machines.
Deep learning has transformed many AI problems, most recently with large language models like OpenAI's GPT-4. As we experience the seismic shift that these models are having on how people access information, I anticipate a similar shift with autonomous machines.
To get these systems on the road, we're investing in data and our compute infrastructure. We've partnered with three of the largest delivery fleets in the UK—Ocado Group, Asda and DPD—to collect real world data and experience on their routes. We've also built a simulation suite called the Wayve Infinity Simulator that gives us a vast array of synthetic data to train from. We are partnering with Microsoft to implement supercomputing technologies to support the development of billion parameter foundation models for autonomous driving. As these applications advance, we are designing powerful new infrastructure capable of handling datasets consisting of images and videos on top of compute-intensive workloads for training and validation.
"I'll give you credit for picking one of the most difficult situations I've seen for an autonomous car ever."
– Bill Gates
As we push deep learning to new levels of scale, I left our conversation more emboldened by the work that we are doing at Wayve to solve some of the most complex and exciting problems in end-to-end autonomous driving. For example, training generative models to understand the complex dynamics of what's happening in a driving scene, which allows our robotic cars to better understand the world around them. Or using multi-agent reinforcement learning to populate the Wayve Infinity SImulator with virtual road users that mimic the good and bad driving behaviour you experience in the real world. Or leveraging developments in new multi-modal foundation models that enable us to train driving models using vision, language, and action supervision to increase the high-level reasoning of our AI Driver.
Looking ahead, I believe we're now entering a decade where the key challenge is to build embodied AI for machines that can integrate into our daily lives and work in real-world environments alongside people. It's an exciting time, and we can't wait to drive this future forward. 
And yes, it was the best fish & chips I've ever had in the back seat of an autonomous vehicle!
Read more about Bill Gates' thoughts on AVs and how he thinks this technology will reshape the way we look at cars, technology and our future.